Science and culture at the heart of Italy's relaunch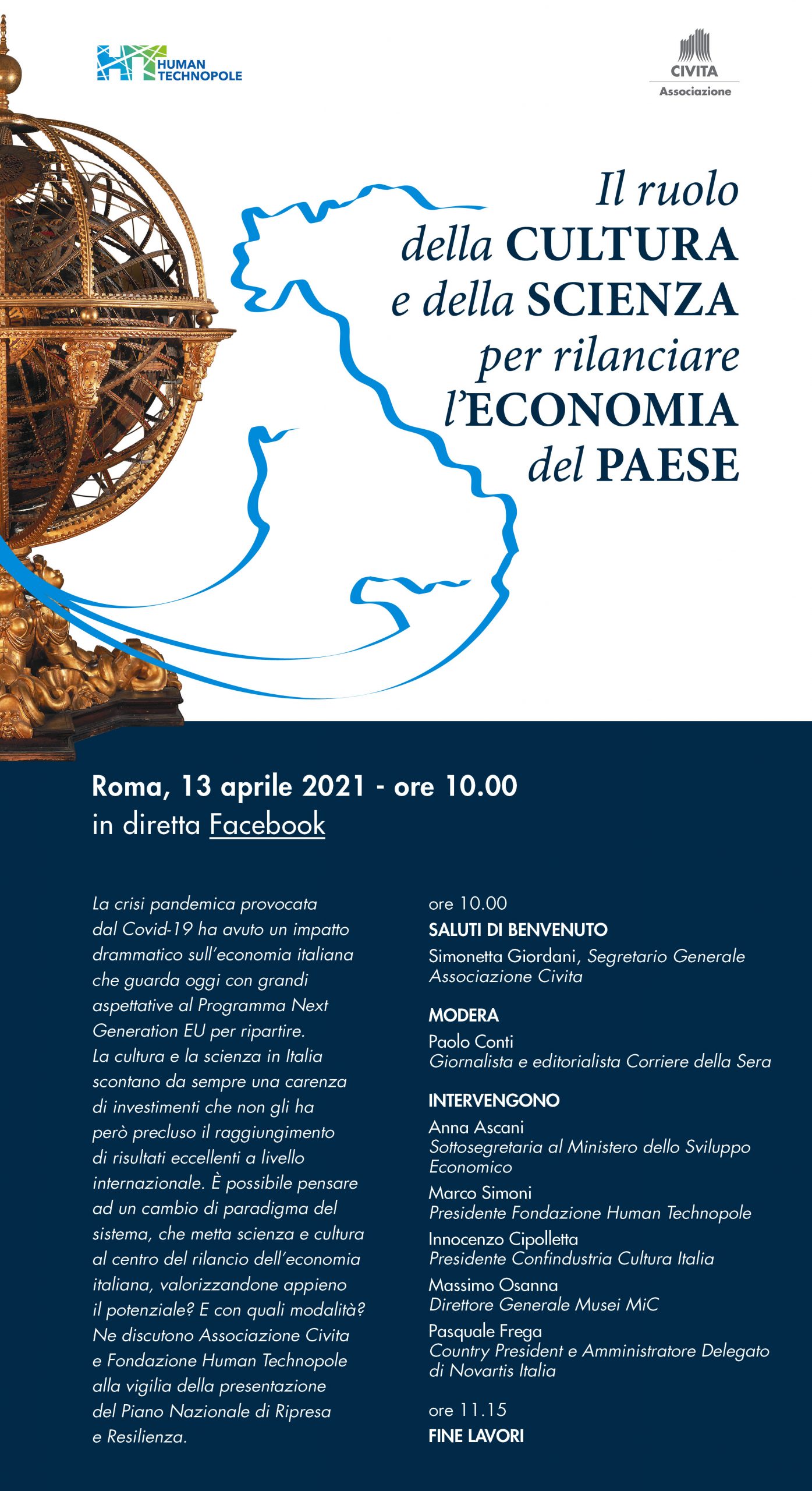 On 13 April at 10.00 Human Technopole Foundation and Associazione Civita organise a debate among representatives of the cultural, research, political and industrial world to discuss the potential role of science and culture in relaunching the Italian economy on the eve of the presentation of the National Recovery and Resilience Plan.
The virtual event will be streamed live on Human Technopole's Facebook page as well as the Facebook page of Associazione Civita.
This event is the first in a series of joint initiatives between Human Technopole and Associazione Civita following a memorandum of understanding jointly signed at the end of 2020 for the implementation of activities to promote scientific culture and dissemination of knowledge.
The COVID-19 pandemic crisis has had a dramatic impact on the Italian economy, which today looks with great expectations to the Next Generation EU Programme. What role can culture and scientific research play in promoting the relaunch of the Italian economy? Could the National Plan for Recovery and Resilience be an opportunity to start investing in these sectors again, placing them at the heart of the country's rebirth?
The event will feature Simonetta Giordani President of Associazione Civita, Anna Ascani Undersecretary of the Ministry for Economic Development, Marco Simoni President of the Human Technopole Foundation, Innocenzo Cipolletta President Confindustria Cultura Italia, Federica Zalabra Director Palazzo Altieri – Oriolo Romano e Villa Giustiniani – Bassano Romano and Pasquale Frega Country President and CEO of Novartis and will be moderated by Paolo Conti, journalist and columnist for Corriere della Sera.
Follow the Facebook live here: https://fb.me/e/54Ng2IKnA