23 June 2023
First round of students at Human Technopole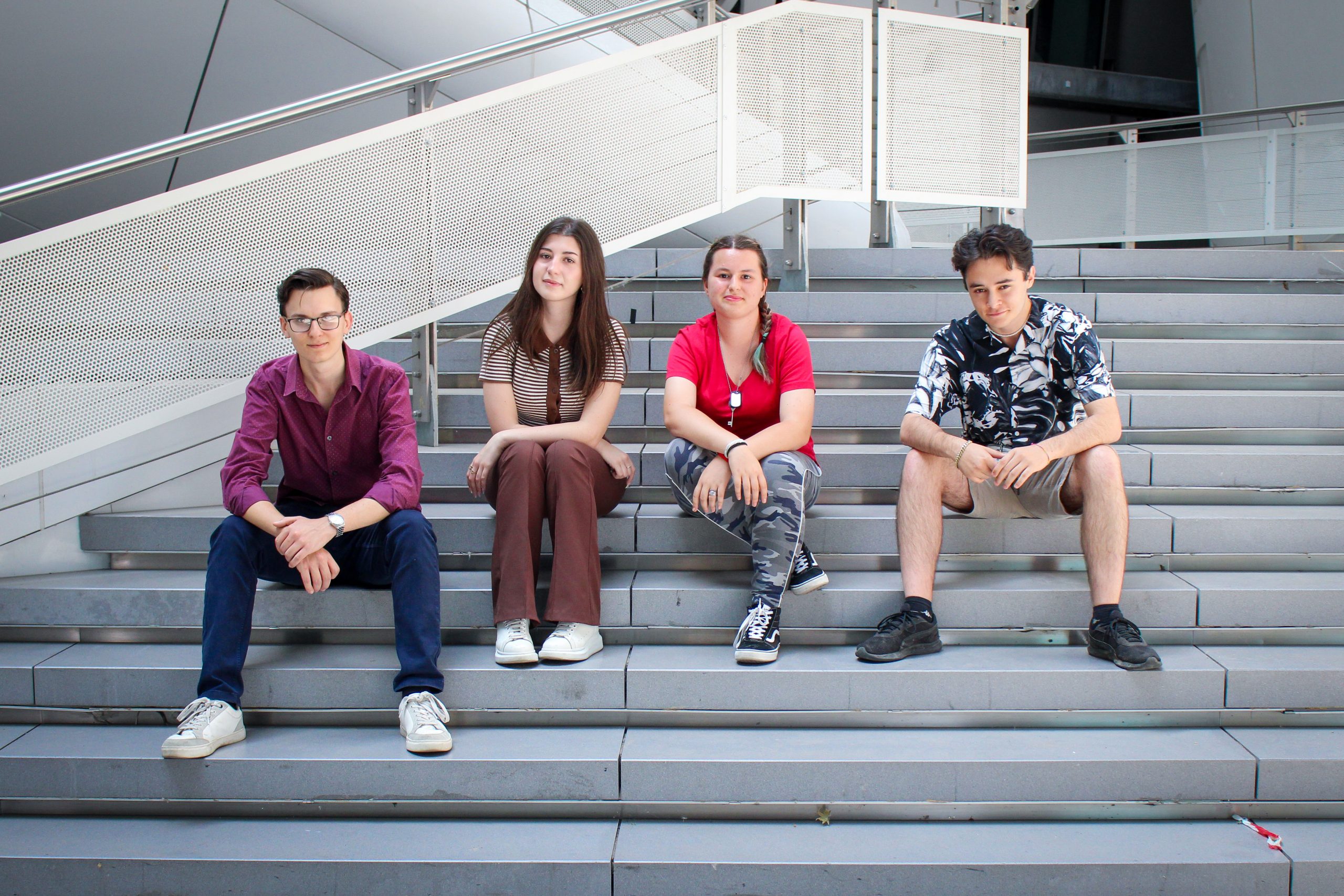 The beginning of summer means warmer days, longer hours and holiday planning. Students in Italy are officially on holiday, but their learning continues!
This year Human Technopole welcomed a first round of students from local secondary schools who chose to take part in "Alternanza Scuola Lavoro". The initiative, promoted by the Ministry of Education, allows students to apply the skills and competences acquired at school to the professional field by working within an organisation for a short period of time, observing the work of a chosen team.
Human Technopole opened four positions within the Communication, HR and ICT & Digitalisation teams to allow students to learn more about how administrative and research support areas can help facilitate the work of scientists.
Students from the Istituto Superiore B. Russell in Garbagnate Milanese replied to the call and eagerly joined the busy offices of Palazzo Italia in late June to help with events, management of the Auditorium, recording of interviews, IT support and learn about HR processes, from recruitment to CV writing.
We asked them to share with us their experience working at HT, whether it has met their expectations, what they were most surprised about and – most importantly – what they learned.
Roberto Burke (ICT – Helpdesk)
"I thought I would be working in a very serious and rigid environment, fully concentrated on scientific research. I was really surprised by the relaxed and calm environment of the offices at Human Technopole. During the week I learned about HT's mission and its history since the early years of its foundation until today. I also learned a lot about the IT ticketing system which is used to manage enquiries and requests for IT support across the entire organisation, from research groups to administrative teams. It made me understand why it's so important to have an IT team within a research institute".
Mishel Martin (Comms)
"My expectations were to be involved in a hands-on experience, learn something on the field, actively participate in ongoing projects and receive feedback on my performance. I was very impressed by the MIND project for the redevelopment of the EXPO 2015 area, which envisages the realisation of an urban innovation district unprecedented in Europe in terms of size and model. Everything I saw and heard at HT also impressed me a lot: I understood how social media management works, how to write content for different communication channels, how to create presentations or organise events. I had the chance to participate in a fantastic project and I am very grateful for this opportunity!".
Luca Conforti (HR)
"I expected that I would work more on my own, but instead I was very well looked after, and it was a pleasant surprise. I was amazed at the number of roles, which I did not even know existed, needed within the organisation, the variety of spaces and services available to employees and the many different issues to be addressed. I learned how important communication between the various 'branches' of the organisation is, and how even the most systematic and repetitive task requires important problem-solving and adaptation skills".
Alice Vanoni (ICT – Audiovisual)
"I didn't have specific expectations. I thought I would find myself in a huge office where every employee worked away at their cubicle from morning till evening. But, from day one, my experience was the exact opposite! The labs and the infrastructure are really incredible, however what really stood out to me was the international environment and the way everyone collaborated and interacted with each other. It felt like one big family. I learned a lot about the technical elements of Audio/visual activity but also how work processes are managed in such a large organisation. Overall, the experience was extremely positive – thanks HT!".