03 March 2021
HT & UniTO: building long-term scientific collaboration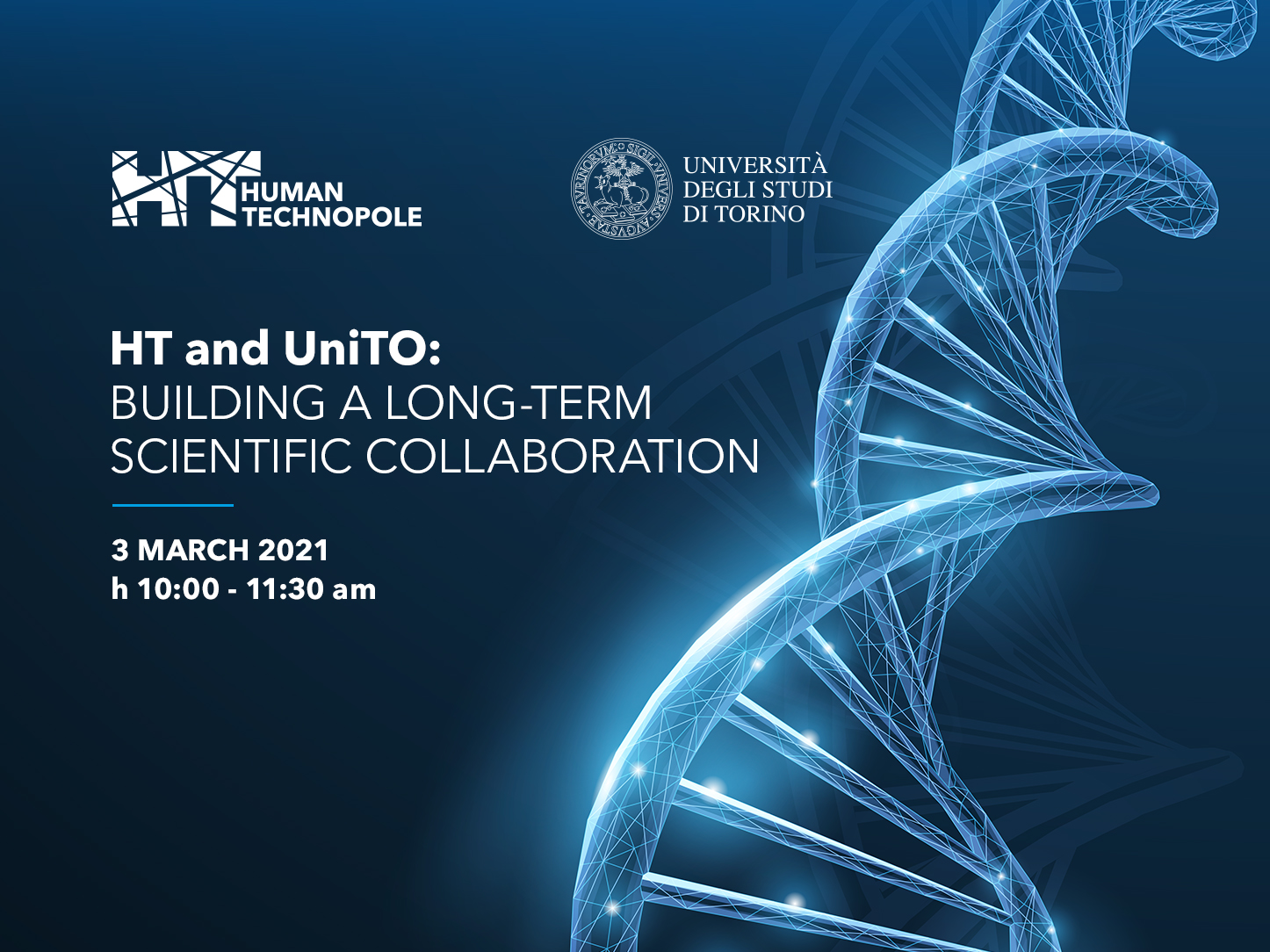 Joint research projects, access to the cutting-edge equipment and exchange of researchers: these are some of the points mentioned in the Memorandum of Understanding between Human Technopole and the University of Turin. The agreement is co-signed by the Director of Human Technopole Iain Mattaj and the Rector of the University of Turin Stefano Geuna. The two institutes presented the agreement today with the digital event "HT and UniTO – Building a long-term scientific collaboration", available in streaming on the University's website starting from 10.00 at the following link: https://bit.ly/307Csyw
This collaborative relationship, which will link the two institutes in the long term, will result in numerous types of joint activities, including the exchange of research personnel at all levels; access of research staff to the respective scientific laboratories and facilities; the development of collaborative projects in areas of mutual interest, including also the development of funding proposals for this research; engagement in joint training activities and programmes of mutual interest; the development and organization of joint seminars, symposia or workshops and other scientific events.
All activities will be carried out through specific executive agreements which will illustrated in detail all elements of the collaboration (description, duration, contact person for both institutions, personnel involved, financial commitments and terms of use for the equipment).
This MoU marks a significant step forward in Human Technopole's roadmap. The institute has always had collaboration and openness among its core values. Over the past two years HT has undersigned other agreements, including one with the University of Naples Federico II, in July 2020, and one with the University of Milan in July 2019.
The director of the Human Technopole Foundation Iain Mattaj comments: "The creation of collaborations and agreements within the Italian research system is fundamental to create the critical mass that allows us the achieve important results. Being able to count on increased investments in research, as promised by Prime Minister Mario Draghi in his recent speech to the Senate, is very important and must be supported by sharing the advanced tools available to individual institutes and allowing the free circulation of ideas. and researchers. Dialogue and collaboration between scientists with different but complementary experiences and skills are two elements that have always characterised the identity of Human Technopole".
University of Turin Rector Stefano Guena also commented: "Today we are happy to announce this collaborative agreement with Human Technopole, which was born through a synergetic approach and which will offer numerous and high-level opportunities for research. This agreement comes at a crucial time for research in the medical field and for the well-being of people. Never before have innovation and frontier research represented so strongly an opportunity to overcome a serious health and social crisis, as well as the most appropriate time to invest in advanced knowledge. Networking with the main actors involved in this area is of fundamental importance and consolidates a deep-rooted vocation of our University. What we will be able to generate together is an important added value, because it is established on a strategic axis that strengthens the whole territory, the one between Turin and Milan".
---
3 MARCH 2021 | h 10:00 – 11:30
Human Technopole and University of Turin have recently signed a Memorandum of Understanding for scientific collaboration, which paves the way for numerous joint activities.
During this virtual event, open to students and researchers at all levels, the two Institutes will kick off the collaboration by presenting their synergetic research lines.
AGENDA
UNITO, THE STRENGTH OF MULTIDISCIPLINARITY: GENERAL INTRODUCTION TO UNITO WITH A FOCUS ON THE IMPORTANCE OF BRIDGING THE BORDERS BETWEEN SCIENTIFIC DISCIPLINES FOR FOSTERING INNOVATIVE RESEARCH
Stefano Geuna, Rector University of Torino
Cristina Prandi, Organic Chemistry Department, University of Torino
INTRODUCTION TO HUMAN TECHNOPOLE
Iain Mattaj, Director, Human Technopole
PRECISION MEDICINE IN ONCOLOGY: FROM 'AVATARS' TO COMPUTATIONAL GENOMICS
Alberto Bardelli, Head of Molecular Oncology, Department of Oncology, University of Torino
HUMAN BIOLOGY, AT SCALE: VISTAS FROM THE HUMAN TECHNOPOLE ROADMAP
Giuseppe Testa, Head of Neurogenomics Research Center, Human Technopole
Q&A SESSION
Introduction and moderation
Silvia Giordano, Department of Oncology, University of Torino
The online event is free and open to students and researchers at all levels
Registration deadline 26 February 2021