25 February 2022
Human Technopole: Minister Messa Inaugurates Our Research Labs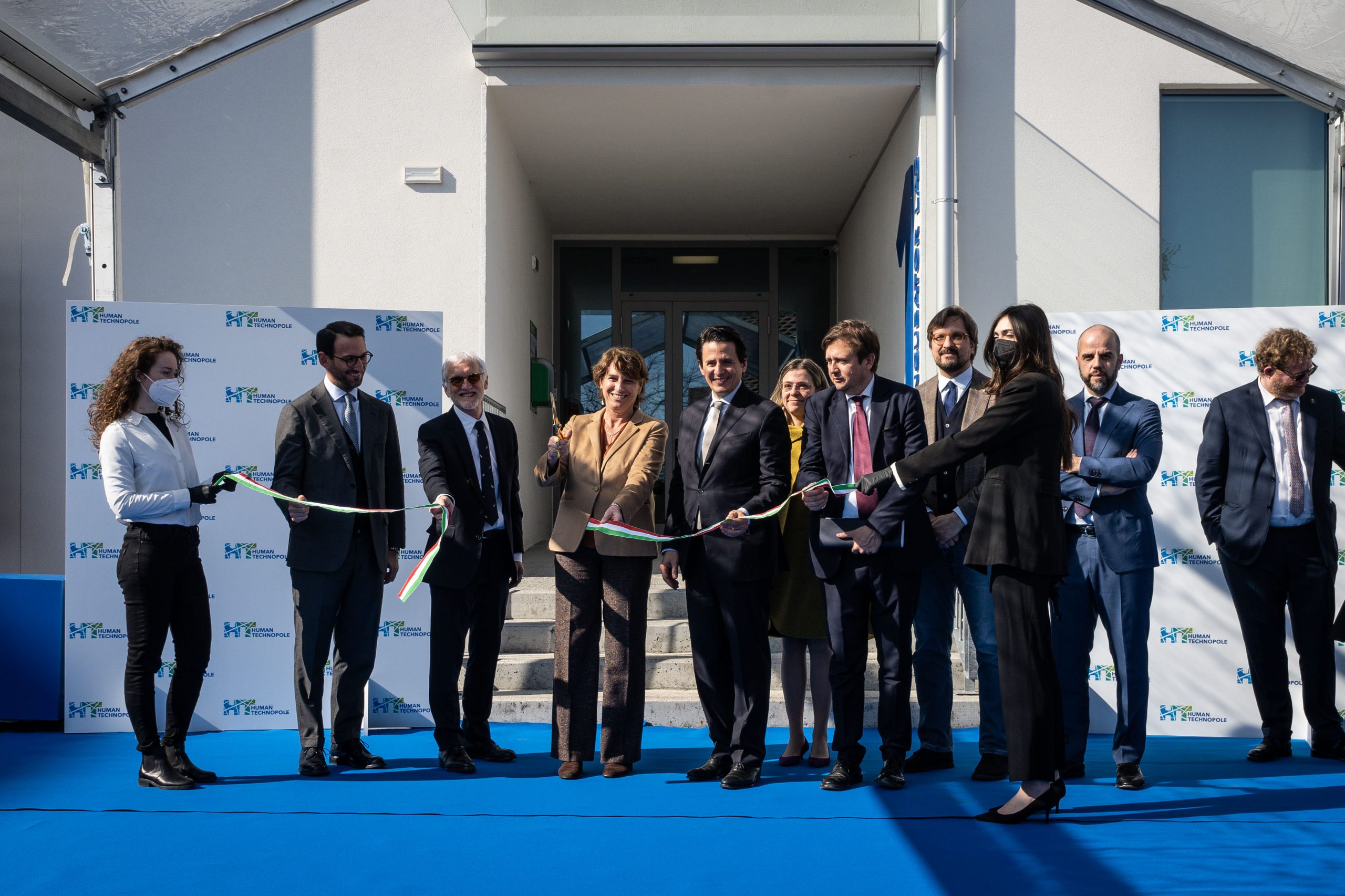 Minister for University and Research Maria Cristina Messa, Undersecretaries Sileri and Freni, Councilor Guidesi and Deputy Mayor Scavuzzo inaugurated today Human Technopole's laboratories, 5.000 square meters made available to over 100 researchers and support staff coming from 20 different countries who are already at work in the life sciences institute.
Milan, 25 February 2022 – Three buildings, over 5.000 square meters of space, next generation sequencers, state of the art equipment and 180 workstations for researchers: these are among the key features of Human Technopole's first experimental labs inaugurated today by Minister for University and Research Maria Cristina Messa.
A ribbon cutting ceremony took place today at the presence of Human Technopole Foundation President Marco Simoni, Human Technopole Director Iain Mattaj, Health Undersecretary Pierpaolo Sileri, Economy and Finance Undersecretary Federico Freni, Lombardy Region Councilor for Economic Development Guido GuidesiDeputy Milan Mayor Anna Scavuzzo, HT staff and the Heads of the five Research Centres that make up the life sciences institute.
The new spaces, already partially set up over the past months as works were being completed, are now operational and represent the beating heart of the institute's research activity, hosting over one hundred researchers and support staff hired by Human Technopole, representing 20 different nationalities and with an average age of 35. Over 60% of the institute's research staff comes from abroad, foreigners and returning Italians who, for the most part, are at their first work experience in Italy.
Maria Cristina Messa, Minister for University and Research, declared: "To be able to do good research you need people, interdisciplinarity, inclusion and a "home". I wish to thank HT for attracting scientifically valid as well as strongly motivated people, for creating an inclusive environment for researchers from all over the world and for promoting an ongoing dialogue within the wider MIND project. Today we must strengthen even further the Italian research ecosystem. Human Technopole can do a lot in this regard, by pursuing its mission and working not only with international but also Italian networks, benefitting from the recently signed Convenzione."
President of Human Technopole Foundation Marco Simoni underlined: "Despite the pandemic, the Human Technopole project has never stopped. Today's inauguration marks an important milestone which we are very proud of. These labs now host the first experimental activity of our researchers, Italians and foreigners alike, who have chosen to come work at our institute after important professional experiences abroad. These labs, equipped with state-of-the-art technologies for research in the life sciences, will be fundamental together with training and funding opportunities in attracting and encouraging the return of other talents. The challenge of Human Technopole and is role in Italian research takes a new step forward at the service of the whole country".
Iain Mattaj, Human Technopole Director, commented: "Human Technopole is founded on scientific excellence, interdisciplinarity, diversity, internationality and service to the research community. These are the principles that drive our project to create an internationally competitive life sciences research institute in Italy. A project made more ambitious today by the pandemic which has increased public expectations for the project even further. Thankfully we can count on the world-class Italian and foreign researchers who have chosen Human Technopole to develop excellent research projects".
Built in the area next to Palazzo Italia and the Tree of Life, the three buildings host laboratory space for the Centres of Structural Biology, Genomics and Neurogenomics alongside the impressive microscopes of the CryoEM Facility and the Next Generation Sequencers of the Genomics Facility. Researchers will carry out experimental activity in the areas of molecular biology, biochemistry, biophysics, cellular biology, genetics and genomics aimed at delivering Human Technopole's mission to improve human health and well-being, with a focus on healthy aging.