16 December 2019
Iain Mattaj awarded with the Medaglia Teresiana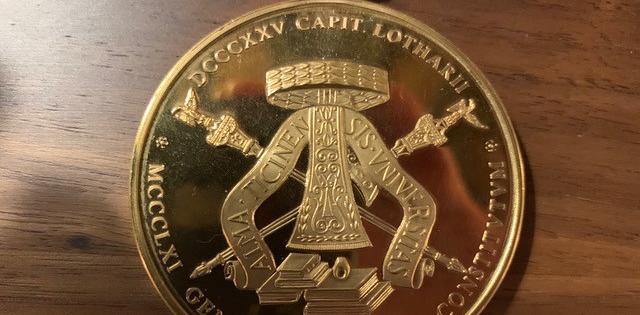 Monday, the 16th – Director Iain Mattaj spoke as the distinguished lecturer at the inauguration ceremony of the 2019-2020 PhD academic year of the University of Pavia.
He was later awarded with the Medaglia Teresiana, the highest honor confered by the University of Pavia.
The university of Pavia was established as a Studium generale in 1361 and It has ranked among the leading research institutions in Italy and Europe. Famous scientists like Alessandro Volta (the inventor of the electrical battery) and Gerolamo Cardano (the founder of the studies on probability), lawyers like Cesare Beccaria (the 18th century advocate for the abolishment of death penalty), poets like Ugo Foscolo and Vincenzo Monti and – more recently – the Nobel Laureates Camillo Golgi (medicine), Giulio Natta (chemistry) and Carlo Rubbia (physics) spent most or part of their academic career in that University.
The Teresian medal was inspired by 18th century models and is offered to illustrious guests of the University. On recto of the medal is represented the coat of arms of the University, enclosed in the inscription "DCCCXXV Capitulare Lotharii – MCCCLXI Generale Studium constitutum". In the cartouche there is the wording "Alma Ticinensis Universitas"; on the verso there is a refined modern version of the Palazzo del Piermarini with the wording "Athenae Insubricae restitutae MCMLIII. Athenaeum Ticinense scientiis, magistris, operibud suctum MDCCLXXII".