10 September 2021
Iain Mattaj honoured with German Cross of Merit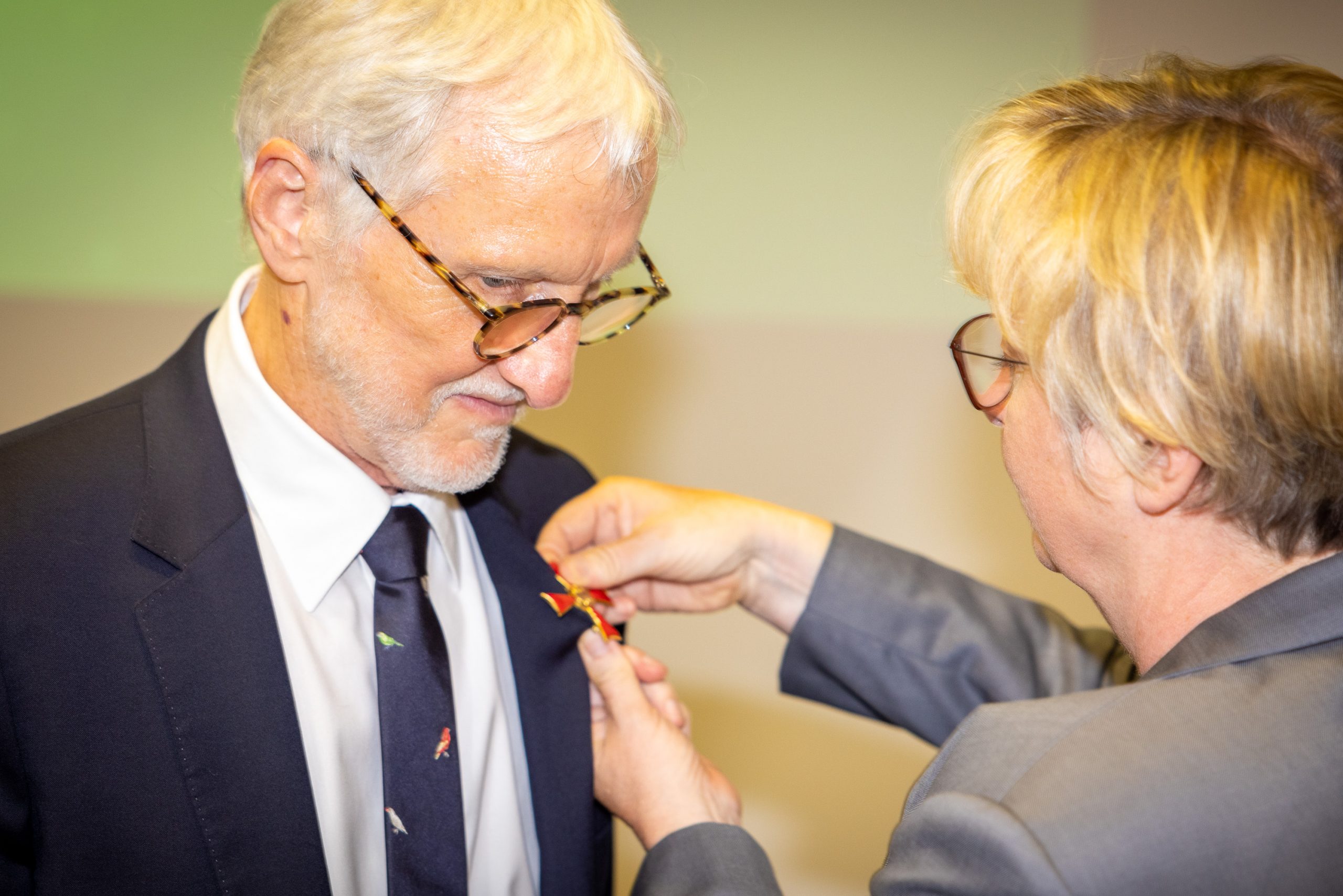 Human Technopole Director, former EMBL Director General, Professor Iain Mattaj was awarded the German Cross of Merit ('Verdienstkreuz 1. Klasse des Verdienstordens der Bundesrepublik Deutschland') at a ceremony held at EMBL Heidelberg on 9 September 2021. The honour recognises Professor Mattaj's commitment to the German public and the common good through fostering and increasing the interaction and dialogue between EMBL and the German community during his time at EMBL.
Professor Mattaj served as EMBL Director General between 2005 and 2018. In January 2019 he left Germany to become the first director of Human Technopole.
Born in St. Andrews, Scotland, in 1952 and obtained German citizenship in 2016. Following studies at the University of Edinburgh, UK, a PhD at the University of Leeds, UK, and postdoctoral research at the Friedrich Miescher Institute, Switzerland, he focused his research on the ribonucleoprotein (RNP) particles that function in the processing of messenger RNA precursors, on the transport of molecules between the cell nucleus and cytoplasm, and finally on the breakdown and reassembly of the cell nucleus during each cell cycle.
"It is an enormous honour to be awarded the Verdienstkreuz," said Professor Mattaj. "Germany was my home for over 30 years, and I owe to EMBL the greater part of my career. It was a unique privilege to be able to contribute to this country, which is one of EMBL's 27 member states, and support the wider scientific community by pursuing my passion for research and discovery alongside many inspiring mentors and talented colleagues. I am incredibly humbled by this recognition, and I would like to thank the Federal Republic of Germany for this unexpected award."
Theresia Bauer, the Baden-Württemberg Minister of Science, Research and Arts, officiated at the ceremony. She said: "Iain Mattaj shaped the development of EMBL for many years and made groundbreaking projects at the Heidelberg site possible. He also cultivated a close cooperation between EMBL and the strong life science research institutions in the area. The region is still benefiting from this today, all the way through to our efforts to develop this into a top location in the healthcare sector with the 'Health and Life Science Alliance', which will have an impact far beyond Baden-Württemberg."
"I extend my personal congratulations to Iain," said current EMBL Director General Professor Edith Heard. "He served EMBL and the scientific community in many different roles over the years. His leadership paved the way for the ambitious plans we have for our next scientific programme, allowing us to continue to evolve and expand into new areas, collaborations, and partnerships."
Photo credit: (c) EMBL, Stuart Ingham