19 October 2022
Urban Oasis at Human Technopole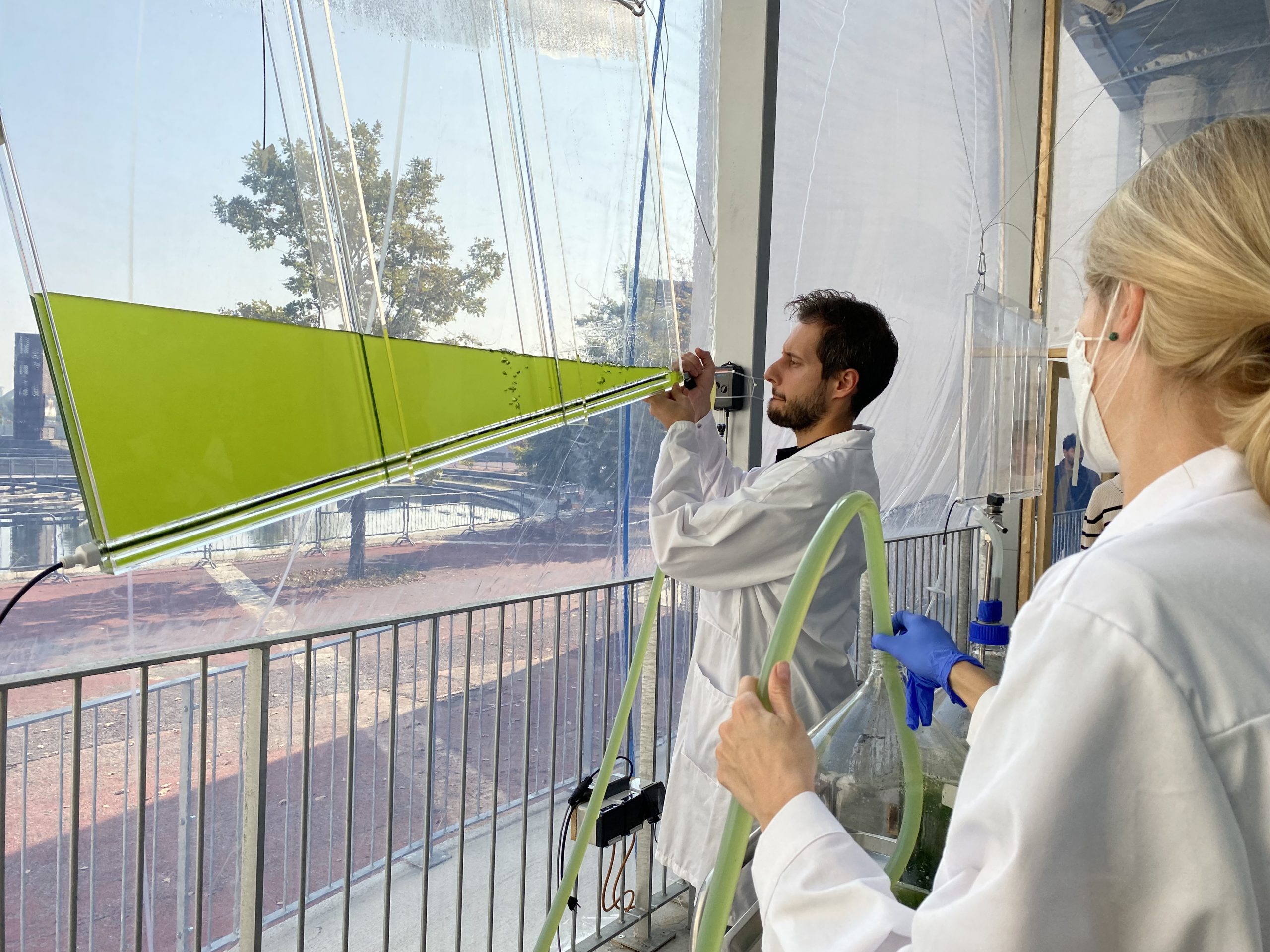 The installation 'Urban.Climate.Oasis Milano', selected as part of the S+T+ARTS call promoted by the European Commission, was inaugurated today at Human Technopole: the waste heat produced by the Institute will feed a greenhouse for the cultivation of algae that will be used to study human biology. The work is by Markus Jeschaunig, an internationally renowned artist and architect who worked on the Austrian pavilion for the Milan Expo in 2015.
Milan, 19 October 2022 – A greenhouse for cultivating algae, organisms fundamental for the study of human biology, powered by waste energy (such as data centres) that would otherwise be dispersed in the environment: this is the installation combining scientific research and sustainability inaugurated today at Human Technopole and designed by Austrian artist and architect Markus Jeschaunig. The project, entitled "Urban.Climate.Oasis Milano", was selected by the MEET-Digital Culture Centre in Milan as part of S+T+ARTS (Science + Technology + Arts), the call promoted by the European Commission to design the future in an increasingly sustainable perspective by promoting hybrid collaboration spaces between science, technology and art.
The greenhouse is adjacent to Human Technopole's Incubator 1, one of the experimental laboratories located in the area in front of the Tree of Life near Palazzo Italia. The facility is powered solely by the waste heat emanating from the building and available constantly throughout the year. These temperatures are optimal for the cultivation of algae, organisms that Human Technopole researchers use to study human biology and in particular cilia, organelles that extend from the surface of eukaryotic cells and are of fundamental importance for human health. In fact, cilia are present in many organs and tissues and ciliary dysfunctions cause diseases – called 'ciliopathies' – that can affect the kidneys, liver, brain, heart, retina, pancreas and the reproductive and respiratory systems.
Created with an inflatable structure of ETFE (ethylene tetrafluoroethylene) – an innovative plastic material with numerous properties such as transparency to the sun's rays and extremely high resistance – the greenhouse will allow visitors to come into contact with the Institute's research activities, thus representing a true 'window on science'.
With the installation 'Urban.Climate.Oasis Milano', Markus Jeschaunig returns to a place he knows well: the architect was in fact one of the authors of 'Breathe.Austria', the Austrian pavilion realised for Expo Milano 2015.
Iain Mattaj, Director of the Human Technopole, commented: 'We are grateful to Markus Jeschaunig for choosing Human Technopole as a scientific partner for his project. Harnessing waste heat is, now more than ever, a winning idea given the constant rise in gas prices and collective efforts to reduce energy consumption. However, Markus' installation is not only about sustainability. Since his initial proposal, Markus has fine-tuned his project, aligning it more closely with the scientific work of Human Technopole. The result is the creation of a new space for researchers to meet and discuss, while offering an opportunity to learn more about art, design and science."
The author of the work Markus Jeschaunig emphasised: "It is always very fruitful to collaborate with scientists from different fields. In the concept phase, when the HT researchers said: 'we have loads of technical systems with waste heat, and our algae need light and heat to grow", I immediately knew this can match and became a brilliant project. This greenhouse brings science but also topics related to climate change into a physical space with sensory experiences. I believe the combination of science and art in creative projects can play a key role in developing new solutions for the transformative change our society needs to navigate through the dramatic times ahead. "