19 December 2022
OPEN HT: a dialogue with the scientific community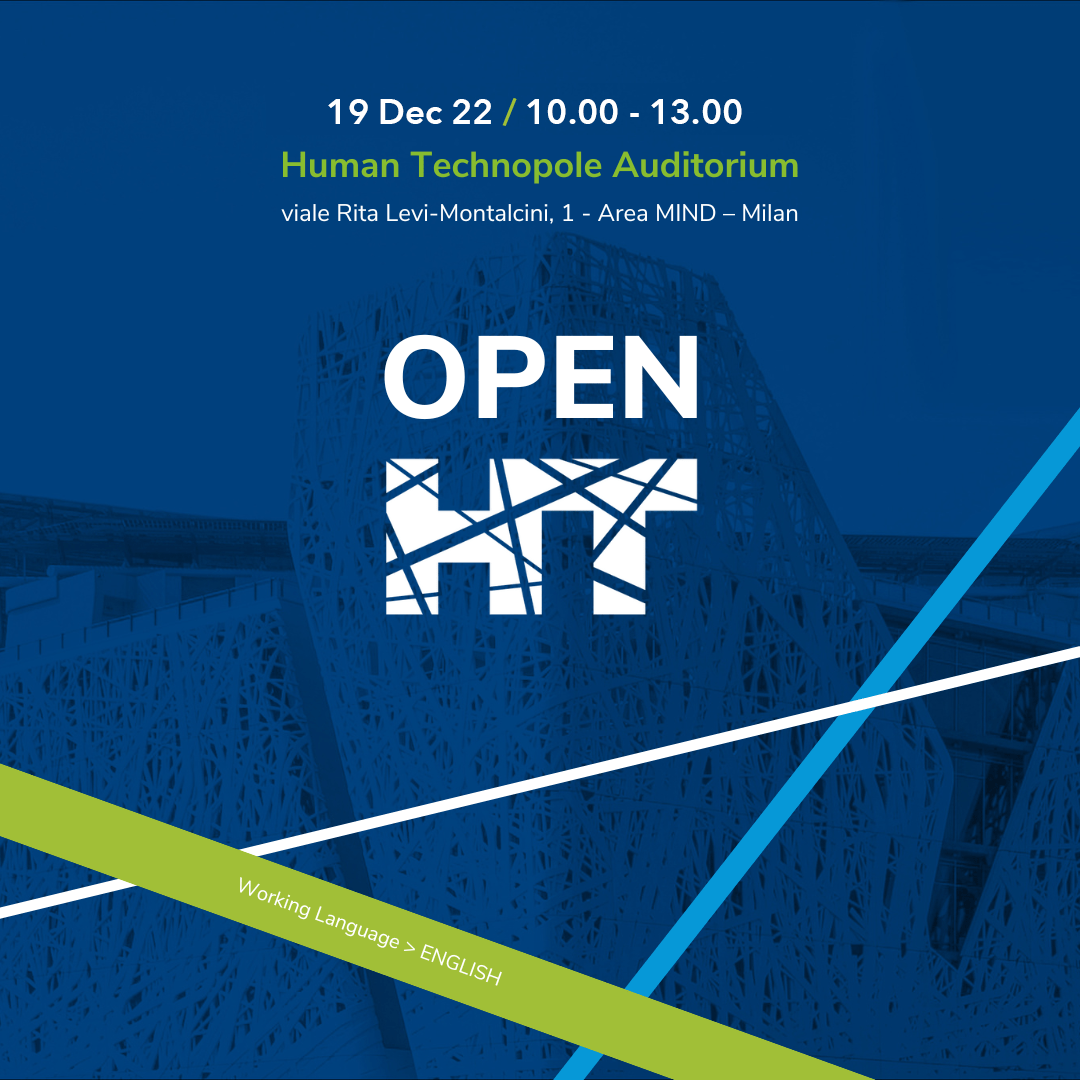 Today Monday 19 December from 10.00 a.m. in the Human Technopole Auditorium at MIND Milano Innovation District OPEN HT took place. The event represented an opportunity for dialogue between the life sciences Institute and the national scientific community.
The initiative was also the occasion to share the developments of Human Technopole as detailed in the biennial report (2020-2021) already transmitted to the Houses of Parliament and the Ministries of Economy and Finance, University and Research, and Health) as required by Law 160/2019 paragraph 275. The full report is available at the following link.
The morning included speeches by Foundation President Gianmario Verona, Director Iain Mattaj and the Heads of the five research centres currently active at the institute. The Director General of the Ministry of Health Giovanni Leonardi was also present via remote connection.
Human Technopole has been operational since January 2019, with the arrival of the first Director Iain Mattaj. In October 2019, the first Heads of Research Centre joined the institute and the initial core of administrative staff.
In May 2020, Human Technopole was given the task of creating a Centre for Innovation and Technology Transfer (CITT) with the aim of helping to promote a wider exploitation of the results of research and technological innovation in the Italian life sciences sector.
In December 2020, an agreement was signed between Human Technopole and its founding ministries (Economy and Finance, University and Research, and Health) governing the identification of National Facilities (NF) with a high technological impact to be set up at HT. These facilities will be accessible to the national and international scientific community to conduct high quality research in their respective fields.
In 2021, the first research laboratories were opened. After thorough re-functionalisation, the campus currently occupies an area of approximately 30,000 square metres and consists of three existing buildings (Palazzo Italia, North Pavilion, South Pavilion) and the newly constructed incubator labs, totalling 25,000 square metres of interdisciplinary laboratories. A new building – the South Building – will be constructed in the coming years. Once completed, the Campus will also house the National Facilities envisaged by the additional activities entrusted to the Institute by Law 160/2019.
Today, Human Technopole employs more than 340 people, including 220 researchers and scientific support staff. These are professionals of 30 different nationalities, with an average age of 36. The institute's researchers have already received EUR 8.7 million in external funding through grants and fellowships from European and international institutes.
When fully operational, Human Technopole will employ up to 1,000 scientists in various fields including biology, bioinformatics, chemistry, engineering, physics, mathematics, computational studies and computer science who will work together on research topics of biomedical relevance.