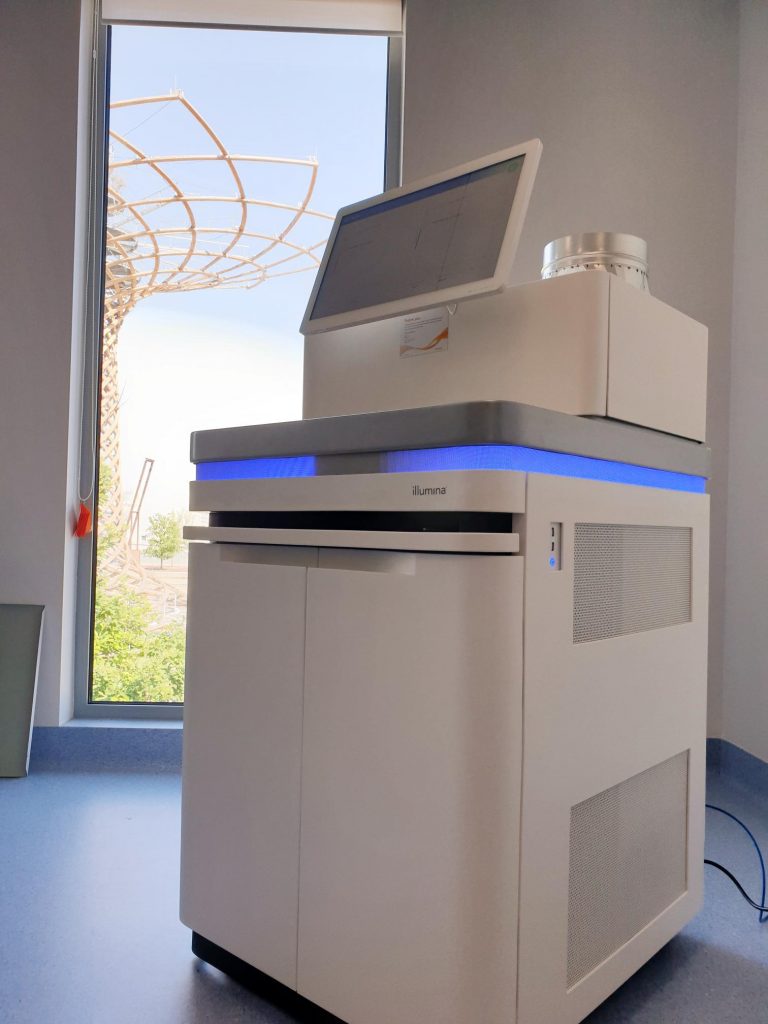 Genomics Facility
SENIOR MANAGER: Clelia Peano
Why a Genomics Facility?
The mission of Human Technopole's Genomics Facility is to provide high throughput analysis potential for large projects and single-cell level analysis, allowing to analyse various types of samples with an increasing level of sensitivity and specificity.
Thanks to a team of highly qualified and specialised professionals with both technical and scientific documented experience in the application of sequencing technologies in different fields of investigation, the Genomics Facility is able to provide state-of-the-art and innovative services in Genomics, Transcriptomics, Epigenomics, and Metagenomics fields of research.
Key features of the Genomics Facility
The Genomics Facility benefits from state-of-the-art equipment including:
NovaSeq 600 Illumina, the most powerful Illumina sequencer
MiSeq Illumina
PromethION 48 Oxford Nanopore
Chromium Controller and Chromium X 10x Genomics
Chromium Connect 10x Genomics
BD Rhapsody Single-Cell Analysis System BD Bioscience
CellenONE f1.4 ScienION
TapeStation 4200 Agilent
Fragment Analyzer Agilent
FEMTO Pulse Agilenti
Bravo NGS Workstation Agilent
QIACube HT QIAGEN
Covaris E220 Focused ultrasonicator
Glomax Discover Microplate Reader Promega
Concrete examples of research and studies that can be carried out at the Genomics Facility
The Genomics facility collaborates with Human Technopole's Research Centres to achieve the scientific objectives of projects concerning:
genomic studies on large cohorts of patients aimed at identifying genetic markers associated with the predisposition or onset of diseases;
functional genomics studies aimed at understanding molecular mechanisms underlying transcriptional and epigenetic regulation;
neurogenomic studies aimed at analysing the differentiation of neuronal cells and tissues from pluripotent stem cells to brain organoids;
single-cell sequencing studies to obtain immune profiles in Covid-19 patients or to study the immune infiltrate in tumours or to determine the immunological mechanisms underlying the onset of diseases of the immune system.
Each Human Technopole facility has specific rules and policies to determine access on behalf of internal and external scientists.
We are currently setting up our first scientific facilities. Following their opening, we will be sharing the rules for accessing our infrastructures with the national scientific community.