16 November 2020
Leaders of Genomics Research Centre announced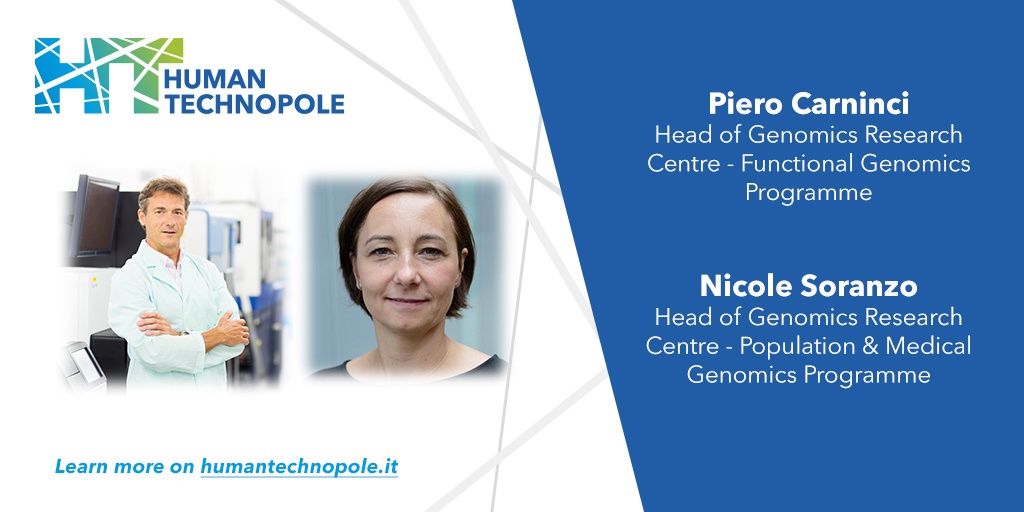 Milan, 11 November 2020 – Human Technopole, Italy's new research centre for life sciences, has announced the leadership of the Genomics Research Centre with the appointment of Nicole Soranzo and Piero Carninci as Heads of the Centre. The joint appointment represents the strategic approach of the Institute to develop dual research programmes in Population and Medical Genomics and Functional Genomics.
Nicole Soranzo is one of the world's leading experts in human genetics and her research activity focuses on the application of large-scale genomic analysis to identify genetic variations associated with the onset of diseases. She currently holds the prestigious positions of Senior Group Leader in Human Genetics at the Wellcome Sanger Institute and Professor of Human Genetics at the University of Cambridge Clinical School.
Piero Carninci is one of the main experts on the molecular functioning of DNA and RNA. He is currently Team Leader of the Laboratory for Transcriptome Technology and Deputy Director of the RIKEN Centre for Integrative Medical Sciences in Yokohama (Japan). He has been collaborating with Human Technopole for the past year as an Advisor to the Research Centre. His activity at HT will be directed towards research on the mechanisms which govern gene expression on how heritable genetic information is translated into phenotypic traits.
Human Technopole Director Iain Mattaj commented: "We are very proud to have two internationally renowned scientists of the calibre of Nicole and Piero to head Human Technopole's Genomics Research Centre. Our vision for the centre is based on a global approach which integrates the study of what happens at the molecular level in a cell's DNA and RNA, to what can be detected at the macroscopic level, studying populations and their susceptibility to develop specific diseases. The two programmes of the Genomics Research Centre will work in close synergy trying to understand which genes are attributable to a specific individual characteristic, through genetics and human genomics, and by analysing how the latter work, thanks to functional genomics".
Human Technopole President Marco Simoni underlined: "Nicole Soranzo and Piero Carninci are two internationally renowned scientists. They have both been working abroad for the past few decades, giving their contribution to fundamental discoveries in some of the world's leading institutes and universities. We are honoured they have chosen to bring their talent to Italy and to Human Technopole. Today we take a significant step forward in building an internationally competitive research institute. Thanks to their efforts our Genomics Research Centre will develop studies and activities of fundamental value for the scientific and economic development of our country".
Both Nicole Soranzo and Piero Carninci are still partly involved with their current institutes. They will progressively increase their commitment towards Human Technopole until they will be dedicated full time to the new Italian institute for life sciences.
Nicole Soranzo and her role at Human Technopole
She is the Head of the Genomics Research Centre – Population and Medical Genomics Programme at Human Technopole. She will lead genomic studies aimed at improving our understanding of genetic diversity and disease susceptibility in the Italian population.
Her research programme will focus on the development of large-scale genomics initiatives to study human diseases, with a particular emphasis on the Italian population. She will work in collaboration with clinical and epidemiology investigators to complete the genomic characterisation of participants in epidemiological studies and patients with common and rare diseases. This analysis will be useful to identify recurrent genetic characteristics in populations with a marked predisposition or natural protection to develop chronic-degenerative diseases, including cancer, cardiovascular diseases and their intermediate forms such as hypertension, diabetes, dyslipidaemia, obesity and metabolic syndrome. This study will be conducted by researchers from the Human Technopole Population and Medical Genomics Programme in close contact with colleagues from the Functional Genomics Programme to leverage the large collection of biomaterials and systematically explore how individual gene expression varies. One of the first projects planned in this area includes carrying out the genomics characterisation of the participants in the "Moli-Sani" study, an epidemiological study which has been developed over the years by the Istituto Neurologico Mediterreneo – Neuromed IRCCS.
Piero Carninci and his role at Human Technopole
He is the Head of Genomics Research Centre – Functional Genomics Programme, which is committed to the development of new technologies to analyse the structure and regulation of DNA and RNA. It will aim to map all the regulatory elements in the 3D space of cells as well as to allow the measurement and study of all interactions between DNA, RNA, proteins and proteome in 3D, in order to identify the mechanisms that regulate biological activity.
These technologies will also be applied on a larger scale, up to that of the whole genome, with the aim of providing data that can help interpret different variants. Methods will be developed that allow multi-omics measurements of many thousands of cells per experiment, with the additional goal of analysing cell activity in living tissues via multiple temporal measurements, mapping the cells and their dynamic interactions in 3D.